Band Office:
202-146 Howey St. P.O. Box 321 Red Lake, Ontario P0V 2M0
Phone: (807) 735-1381, Ext.1308
Toll Free: 1-800-387-3740  Fax: (807) 727-9494
Chief Mary Lawson
Councillor Dylan Cockroft
Councillor Anita Lawson
Lorna Dansereau – Band Administration ext 1309
Mary Lawson – Health Health Worker McDowell Lake ext 6001
Daniel James – Land Use Technician ext 1198
Population: 59 members (on/off community)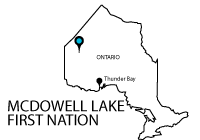 Location: McDowell Lake is located approximately 155km northeast of Red Lake, ON.
Community Activities
Community members live in urban communities primarily Thunder Bay and Red Lake. Community members travel by float plane and skidoo to their traditional lands throughout the year. McDowell Lake Council and Staff coordinate trips to the community village, so that the people can remain connected to their lands. Summer activities include, fishing, hunting, gathering berries, gardening and renovating village houses. The community uses a sawmill and chainsaws to build and renovate homes. Ice is collected in the winter and kept in the ice shed under sand to last the summer.
Community Services
Staff coordinate health, mental health, governance, economic development and lands and resources projects. McDowell Lake is working on remediation with Bell Canada to clean up hazardous waste which was left on the reserve lands. Band members are kept up to date through a monthly newsletter and facebook group.
McDowell Lake First Nation
P.O. Box 321 Red Lake, Ontario P0V 2M0
Phone: (807) 735-1381, Ext.1308
Toll Free: 1-800-387-3740  Fax: (807) 735-1383 
http://mcdowelllake.firstnation.ca