Band Office:
P.O.Box 149 Fort Severn, Ontario
Phone: (807) 478-2572, 478-2515
Toll Free: 1-877-478-1212
Fax: (807) 478-1103/2557 
Website: http://fortsevern.firstnation.ca
Chief Clifford Matthews
Deputy Chief Tony Matthews
Councillor TBA
Councillor  TBA
Councillor TBA
Band Manager  Maryanne Thomas
Nation: Cree
Population: 640 members (494 in community)
 
Location: Hudson Bay coast, 855 km northwest of Thunder Bay, Ontario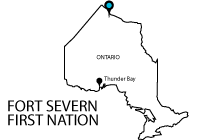 Access: Daily scheduled airways, charter air service. Winter road (seasonal) connects to Peawanuck, Ontario and Shamattawa & Gillam, Manitoba. Water – Hudson Bay.
 
Reserve Status: Original reserve located in the Rocksand area at the confluence of the Severn and Sachigo Rivers. The reserve was relocated to the mouth of the Severn River on Hudson Bay in 1973. Fort Severn First Nation achieved full status on January 11, 1980.
Community Activities
Fort Severn coordinates many events that include activities such as; jigging, flea markets, baseball, shooting competitions, canoe games, Bingo, and other social games which include kids, adults, and elders. Fort Severn annual traditional festivals include fishing tournaments, goose hunts, fall caribou hunts, and Christmas Celebrations. The Annunal Cree festival is hosted annually. The annual Cree festival is celebrated through activites like jigging, baseball, and canoe games.  They also incorporate the traditions of Cree peoples into their festivals and acitvities. The Elders council is active in transferring traditional skills to the youth. Community members are on the land on a daily basis as a way of life.
Community Services
Fort Severn is Ontario's most northerly community. The Washaho Elementary School provides Cree language and curriculum for students from K-8. Fort Severn students have the option to leave their community to attend High School in urban cities or they can remain in their communities and receive accredited courses from 9-12 through KIHS and WAHSA. The clinic provides emergency, and holistic health services including telemedicine.
Local Businesses
Niska Inn is an excellent 8 suite hotel with shared kitchen and wifi. Fort Severn owns and operates a restaurant and local internet and cell phone service to residences and businesses. Cellular Data roaming is available on the Rogers Network. The E-centre is a public building open for computer use and includes the local TV & Radio Station which is used daily to share community news. Many youth sell baking and crafts through the buy and sell facebook group. Community guides are available with ATV rental to travel the land.
Fort Severn First Nation 
P.O. Box 149 Fort Severn, Ontario P0V 1W0 
Phone: (807) 478-2572 or (807) 478-2515 Toll Free: 1-877-478-1212 
Fax: (807) 478-1103 or (807) 478-2557 
http://fortsevern.firstnation.ca