Band Office:
Box 90 Keewaywin, Ontario P0V 3G0 
Phone: (807) 771-1210 
Fax: (807) 771-1053 
Toll Free: 1 866 437-9505 
Website: http://keewaywin.firstnation.ca
Chief George Kakekagumick      
Councillor Eddie Meekis       
Councillor Lawrence Mason
Councillor Pauline Kakekagumick
Councillor Rodney Kakegamic 
Band Manager Jason Kakegamic
Population: 716 members (379 in community)
 
Location: South shore of Sandy Lake, 580 km northwest of Thunder Bay, Ontario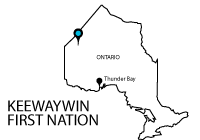 Access: Daily scheduled airways, charter air service. Winter road (seasonal) connects Southeast to Pickle Lake and the provincial all-season road system.
 
Reserve Status:
In 1985, Keewaywin along with six other communities were awarded official band status in August. 1991 and received full reserve status on April 3, 1997.
Community Activities
Keewaywin hosts' recreational, traditional, and social activities throughout the year including; gospel nights, tent meetings, craft nights, parades, feasts, fishing derbies, fall hunts, spring hunts and youth outings on the land. Keewaywin hosts annual tent meetings, people come in from neighboring communities to join the event.
Community Service 
The Keewaywin School provides edcuation from Kindergarten to Grade 8. The Keewaywin School provides the the School with Oji-Cree Language Basics as well. Students have the option to leave their community or they have the option to attend KiHS to attain a Grade 12 Diploma. The 24 hour nursing station provides daily clinics, telemedicine, public health services, and emergency services. Social Services are provided by the Band Office and the Health Department. Services include; Tikinagan Child and Family Services, NNADAP, Brighter Futures, and  Ontario Works. Daily policing service is provided by NAPS (Nishnawbee-Aski Police Service). Court is held on quarterly basis in the community. KO Telemedicine (KOTM) delivers clinical, educational and administrative services through videoconferencing and advanced information communication technologies.
Local Businesses 
The E-centre is a public space for community members and visit to use the computers and access the internet. Kerry's Coffee House provides specialty flavored coffee. There are 3 stores which are open in the evening with snacks for sale. The Keewaywin Motel has 8 rooms with shared kitchen, bathrooms and wifi. Keewaywin owns and operates a restaurant and local internet and cell phone service to residences and businesses. Cellular Data roaming is available on the Rogers Network. The local TV & Radio Station at are the community centre which is used daily to share community news. Many youth sell baking and crafts through the buy and sell facebook group.
Keewaywin First Nation
P.O. Box 90 Keewaywin, Ontario P0V3G0
Phone: (807) 771-1210 Toll Free: 1-866-437-9505
Fax: (807) 771-1053 
http://keewaywin.firstnation.ca